Court's 2019 Term Saw Fewer Cases But Plenty of Headlines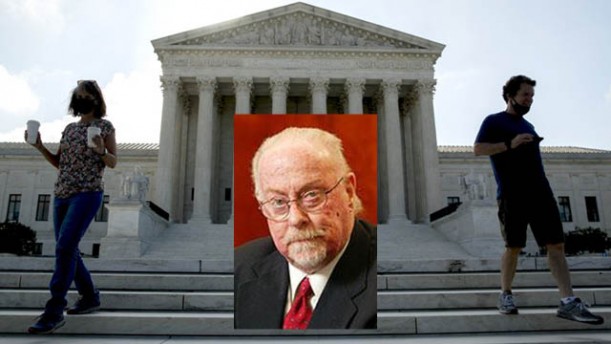 Creighton Law Professor, Ret.
The U.S. Supreme Court made it through the October 2019 term in spite of the COVID-19 pandemic and with the aid of a bit of 1960s technology: teleconferencing.
Although the court issued only 57 decisions, it not only made news with a number of them but managed to draw wrath on some very competent jurists – John Roberts and Neil Gorsuch – for deviating from conservative ideology in high profile cases.
As readers saw in this space a week ago, the Chief caught Holy Ned for his DACA majority opinion and his abortion concurrence (June Medical Services v. Russo).
Gorsuch incurred the ire of such ideologues as Carrie Severino of Judicial Crisis Network and Tom Fitton of Judicial Watch. While it may be entirely too early in Gorsuch's high court career to pin a judicial "A" on his robe, that didn't stop his critics from labeling his work as "brute attack on our constitutional system." (For more, see David Savage's roundup in the Los Angles Times from June 17.)
The court had agreed to hear 74 cases during the term, but had transferred 12 to the 2020 term and pared the rest down to the 57. In the previous 11 terms, it disposed of an average of 77 each year.
This past year the pandemic brought nearly everything in Washington to a halt – including oral arguments in the grandeur of the Supreme Court courtroom. When arguments began again this spring, it was through a technology introduced at the 1964 World's Fair in New York. Court-watchers know that the justices don't like video, perhaps believing that cameras are still as big as Volkswagens, just like in 1964.
Teleconferencing still gave listeners the one piece of unintended laughter, though. On May 6, during the argument in the Robocall case – Barr v. American Association of Political Consultants – the toilet flush heard 'round the world barely interrupted counsel. No one is confessing, but insiders are whispering that it was Justice Stephen Breyer.
Here is a closer look at some of the noteworthy cases of the 2019-20 term:
1. Espinoza v. Montana Department of Revenue. That state – like Nebraska's prohibition of the use of public funds for private schools, enacted in 1875 – outlawed aid to parochial schools, but the legislature enacted a scholarship program which included non-public schools. The state supreme court nixed the program because of the local Blaine Amendment. Justice Roberts wrote the 5-4 majority opinion declaring that equal protection demands that if a state is going to aid some students it may not exclude others.
There were two other freedom of religion cases – Little Sisters of the Poor v. Pennsylvania and Our Lady of Guadalupe School v. Morrissey-Berru. The first limited the requirement of birth control coverage by religious employers under Obamacare, and the second applied the ministerial exception in employment discrimination cases.
2. Department of Homeland Security v. Regents of the University of California. The DACA case held, in an opinion by Roberts, that if the Trump administration wished to strike down President Barack Obama's rule allowing children of illegal persons who had always lived in the U.S. to remain here, be educated and have a path to citizenship, the government must follow the Administrative Procedures Act and not capriciously or arbitrarily change the regulation. Roberts did not forbid repeal of DACA, but merely said it had to be done correctly. The reader will recall that the chief was tongue-lashed by the president for this opinion.
3. June Medical Services v. Russo. This case from Louisiana in which a state law requiring that an abortion provider must have hospital admitting privileges within 30 miles of its clinic was struck down as imposing an undue burden on a woman's reproductive rights. A Texas statute with the same language was struck down just four years earlier.
Although Breyer wrote the majority opinion, Roberts concurred, and said that the case was controlled by stare decisis. This is a well-established doctrine declaring that courts should follow clear precedent.
4. Bostock v. Clayton County, Georgia. The LBGTQ case was a 6-3 opinion authored by Gorsuch. The chief justice joined the majority. It construed the language of Title VII of the Civil Rights Act of 1964 dealing with employment discrimination. The court ruled that transgender persons are protected by the law which bans bias on account of gender. The Gorsuch reasoning was that you couldn't discriminate because one is a transgender person without considering that person's sex.
Justice Samuel Alito wrote a dissent in which Justice Clarence Thomas joined. Justice Brett Kavanaugh separately dissented.
5. Seila Law v. Consumer Financial Protection Bureau. This case involved the regulation of the CFPB, created by the Dodd-Frank Act of 2010, enacted after the financial collapse which began in 2007. Roberts' majority, 5-4, held that the leadership of the CFPB by a single person who could only be removed for inefficiency, malfeasance or neglect, was a violation of separation of powers because it limited the president's control over an executive officer.
This decision was praised on the ideological right, for it was a major step in Donald Trump's 2016 pledge to deconstruct the administrative state.
6. Colorado Department of State v. Baca. The faithless elector cases – this one and one from Washington – held that a state may punish those chosen to be in the Electoral College from that jurisdiction for not voting for the winner of the popular vote. The college is still alive, but some pundits question its use after this ruling.
7. Trump v. Vance and Trump v. Mazurs. Trump's financial records may be subpoenaed by a New York prosecutor or the House of Representatives with appropriate representations as to need and limits on fishing expeditions. "No person is above the law," the court repeats from its ruling in subpoena cases from the Nixon and Clinton era.
The Court's work for the term is reviewed by Adam Feldman, "Final Stat Pack," in Scotusblog on July 17. Find it at scotusblog.com/2020/07/final-stat-pack-for-october-term-2019. It's a treasure chest for court junkies who just love statistics!
Richard Shugrue is a professor emeritus at the Creighton University School of Law and a columnist for The Daily Record
Category:
Omaha Daily Record
The Daily Record
3323 Leavenworth Street
Omaha, Nebraska
68105-1915
United States
Tele (402) 345-1303
Fax (402) 345-2351