'Being An American Indian In The 21st Century'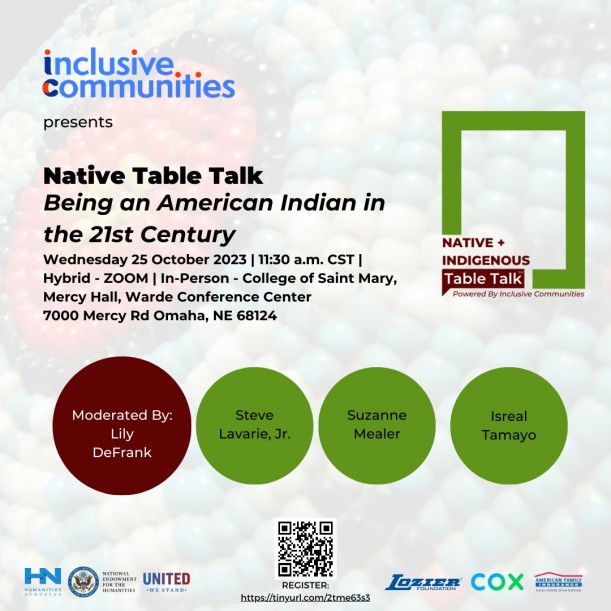 The College of St. Mary hosted October's Omaha Table Talk panel, focusing on 'Being an American Indian in the 21st Century'. This four-person panel — Izzy Tamayo, a youth cultural consultant with the Bluebird Cultural Initiative; Lily DeFrank Glantz, a school social worker with OPS; Steve Laravie Jr., Executive Director of the Lincoln Indian Center; and Suzanne Mealer, the Patient Experience Coordinator with Ponca Health Services in Lincoln — discussed the issues of connecting to a Native American identity in the modern US, how best to connect to your heritage, and some of the struggles they have dealt with personally while growing up where they are part of only 3% of the entire United States population.
Opening with a prayer, they discussed how they are perceived by the general populace, the importance of connecting with culture and the resources needed to do it, as well as finding a sense of belonging in the community. The roundtable, run by people of multiple different backgrounds and ages, shared their own personal experiences to show what it is like for them to be Native American as members of the Navajo, Arapaho, Ponca, and Lakota tribes.
The 1883 law "The Code of Indian Offenses" and the effect it had on their people, and the echoes it left on later generation was a topic of discussion. This law was created to crack down on Native religious ceremonies and practices and was used to force cultural assimilation onto the people. While "The Code of Indian Offenses" was in place, ingenious people would be forced to give up their lands, languages, and even children with the establishment of boarding schools designed to assist in the forced assimilation and institutionalization for generations to come. The law would not be repealed until 1978 with the American Indian Religious Freedom Act (AIRFA).
The group spoke on how they see themselves as part of their culture by connecting to their roots through oral traditions such as songs, languages, and prayers, as most Native American cultures did not believe in writing down their traditions.
They also shared their debased experiences attending predominantly white schools without Native classes, such as being failed in classes that taught their own history wrong or having children cut off their braids in school.
Because of the generational trauma that affects many indigenous youths, younger generations tend to struggle with identity issues and bullying.
A Bellevue local (called B for privacy) shared his own experiences with us. B grew up with a Navajo mother and a white father and spent most summers during his school years with his mother's family on the reservation in Arizona.
B says he finds there are sometimes when Native American culture and expectation can clash with the requirements of modern life, and that he often finds he feels strange defining himself as Navajo. "It's hard to learn and breath the culture if you are not immersed in it," said B. This echoed what the panel said about the importance of teaching culture to the next generation as a way of maintaining that connection.
 B said that he doesn't really speak the Navajo language, which made it difficult at times over the summers when he had to talk to his grandfather who didn't speak much English. His mother, who was still of a generation that was sent to boarding schools which demonized native languages, was not taught the Navajo language as her older siblings were with the belief that English would make modern life easier for her. Because of this erasure, B (along with many others) were not able to learn their native tongue from their parents. 
"When [younger generations] learn the prayer and the language, they connect…our language is our culture," said Laravie Jr., a descendant of Chief Standing Bear.
If you would like to learn more about the Lincoln Indian Center, you can go to their website at indiancenterinc.org. If you would like to learn more about the Bluebird Cultural Initiative, you can go to their website at www.bluebirdculturalinitiative.org.
Category:
Omaha Daily Record
The Daily Record
222 South 72nd Street, Suite 302
Omaha, Nebraska
68114
United States
Tele (402) 345-1303
Fax (402) 345-2351