Celeste Butler: A Morning Walk
Celeste Butler: A Morning Walk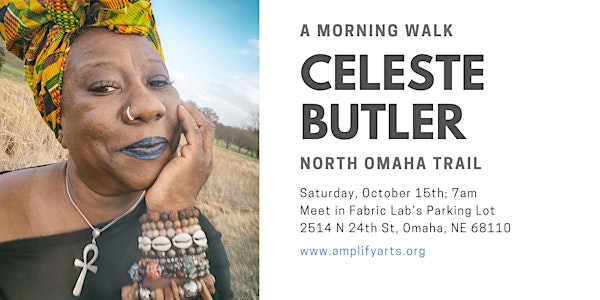 Join Celeste Saturday, October 15th on the The North Omaha Trail for a morning walk and guided conversation
About this event
Recipient of Amplify's 2022 Black American Artist Support Grant, Celeste Butler is a native Omahan, fiber and textile artist, Quiltologist, ceramicist and storyteller, whose family migrated North in the 1940's. Her Southern roots and family history give context and embodied meaning to the themes of hospitality, community, and relationship building invariably present in her work.
Join Celeste Saturday, October 15th on the The North Omaha Trail for a morning walk and guided conversation about holding space for generosity within a creative practice, working with intention, and North Omaha's rich cultural heritage.
Please register to attend. Participants gather in the parking lot of Fabric Lab (2514 N 24th St, Omaha, NE 68110) at 7:00am. This is an in-person outdoor event that will include periods of standing and walking. The North Omaha Trail is wheelchair accessible. Email peter@amplifyarts.org with questions. Face masks are not required but always appreciated.
About Celeste:
Quilting is in Celeste Butler's blood, and she is carrying on traditions passed down from her grandmother and in her youth, the art of manipulating fabric fascinated her. Her earliest memories are of spending hours playing with fabric and materials. She watched her mother, godmother and women in her neighborhood, sew, quilt and crochet and learned until she was able to recreate designs she saw in stores and design her own, the way they did. Whether the barrier was segregation or financial, they could create magic out of material. She sees her fiber and textile art as a way of paying homage to those women who broke down barriers in fashion, and in life.
Celeste has worked on several community engagement projects, as an artist, lecturer and teacher, celebrating the pride and culture of North Omaha. She has collaborated with a multitude of individuals, educational institutions, and organizations and her work has been widely exhibited locally, nationally and internationally.
About The North Omaha Trail:
The North Omaha Trail provides a critical transportation, economic, recreational, and public health link that connects several North Omaha neighborhood anchors including the North Omaha transit station at 30th & Ames, the Kennedy Square redevelopment, the 24th & Lake Historic District, and eventually North Downtown. The North Omaha Trail will serve as a canvas for local artists and creatives by creating multiple opportunities to integrate creative projects throughout the route.
About Amplify Arts:
Amplify Arts is a 501c3 nonprofit whose mission is to promote unity, innovation, and progress in the cultural sector.Our Artist Grants program reiterates our mission to make Omaha a great place for artists to live, work, and thrive. Awarded to individual artists, duos, and collectives to support their practice, build capacity, or realize a public project, grant money contributes to the dynamic growth of a community rich in disciplinary and cultural diversity. Awards become catalysts for artists at various stages in their careers to explore new ideas and establish more robust, critical practices. Artist Support Grants are designed to give artists the chance to experiment and create new work, develop new audiences, and exhibit outside the confines of larger institutional systems.
When and where
Date and time
Sat, October 15, 2022, 7:00 AM – 8:00 AM CDT
Location
North Omaha Trail 2514 North 24th Street Omaha, NE 68110
Organizer of Celeste Butler: A Morning Walk
Date:
Saturday, October 15, 2022 -

7:00am

to

8:00am
Calendar:
Omaha Daily Record
The Daily Record
222 South 72nd Street, Suite 302
Omaha, Nebraska
68114
United States
Tele (402) 345-1303
Fax (402) 345-2351