In Memoriam: Ben Novicoff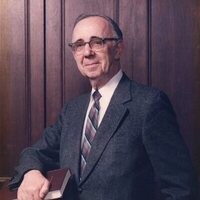 Former Workers' Compensation Court Judge Spent 40 Years – Exactly – on Bench
Former Nebraska Judge Ben Novicoff died last month a few weeks shy of his 100th birthday.
Novicoff was born the youngest of five sons in 1920. The Lincoln native graduated from Lincoln High School in 1938 and majored in accounting at the University of Nebraska–Lincoln College of Business.
Following a stint in the Army during World War II, Novicoff returned to Lincoln and enrolled in the University of Nebraska College of Law. He received his J.D. in 1948 and worked in private practice until early 1955, when he was appointed to fill an unexpired term on the Nebraska Workers' Compensation Court by Gov. Victor Anderson.
Novicoff – who had always wanted to be a lawyer – explained how he came to serve on the court to the Omaha Jewish Press in a 2014 interview.
"One day I was delivering papers to the Justice of the Peace and I saw Hyman Polsky and Hyman Evnen – two other Lincoln lawyers – standing and talking," Novicoff told the newspaper. "I heard them say, 'What about him?' I turned around and said, 'What about who?' At which point they told me that a judge was leaving the Compensation Court. 'You'd probably like that,' they said, so I applied for the job and got it."
The two Lincoln lawyers were right. Novicoff liked it so much that he stayed there for the rest of his judicial career.
In 1964, Novicoff was elected by his fellow judges as presiding judge of the court, a position he held for 30 years, until his retirement on Feb. 1, 1995, exactly 40 years to the day he was first appointed by Anderson.
Among other judicial involvement, he served three years as chairman of the Legislation Committee of the International Association of Industrial Accident Boards and Commissions, during which time he made a study of compliance with IAIABC standards for all active members.
Novicoff told The Lincoln Journal Star in 1989 that, while serving on the Workers' Compensation Court "may not be the most glamorous area of the law," the role "is important to those whose health or livelihood is threatened by an injury at work."
Upon retirement, Novicoff received the United States Department of Labor Commissioner's Award for Eminent Achievement. There is also a reading room named for him at UNL's Harris Center for Judaic Studies as well as a study room at the College of Law.
Though he never married, Novicoff spent much of his life – nearly six decades – in the company of his best friend, Aloha Hausner, until her death in 2014. He also enjoyed spending time with his extended family of nieces and nephews, including his great niece Nancy Nachman Silverman.
Silverman told The Daily Record about some of her memories of holidays and special occasions she shared with her Uncle Ben.
"(Aloha and Ben) were adorable together," Silverman said. "They would drive in from Lincoln and Uncle Ben was always dressed elegantly in a suit and tie, and Aloha always was so well put together. As a young girl, I remember most their smiles and how they would look at each other without saying a word. They were truly a match made in heaven."
Silverman, who now lives in Arizona, also shared a memory from her mother Elaine.
"My mom told me how my Uncle Ben would buy cigarettes for the sorority girls from the PX when he was stationed in St. Louis during World War II," Silverman wrote in an email. "He could buy them less expensively and enjoyed delivering the cigarettes to the sorority girls."
Silverman said her uncle always had a smile on his face and, "like a true Novicoff had a very quiet yet very funny sense of humor."
"He was truly a GREAT uncle, not just my great uncle," Silverman told The Daily Record.
­— David Golbitz
Category:
Omaha Daily Record
The Daily Record
3323 Leavenworth Street
Omaha, Nebraska
68105-1915
United States
Tele (402) 345-1303
Fax (402) 345-2351