Ode To The Mini Pig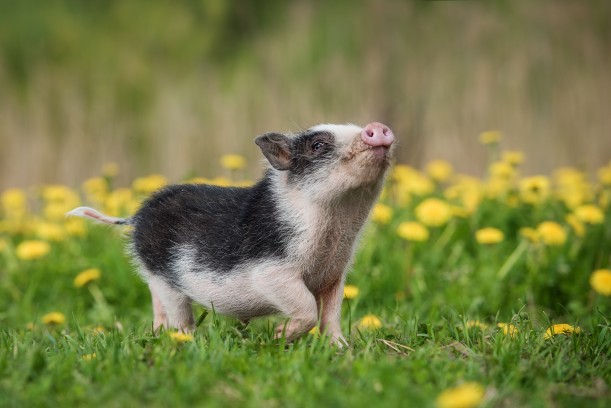 While doing my research on weird laws, I found myself falling down a very strange rabbit-hole.
It started with a simple line in the Waterloo municipal code, under misdemeanors. In Article 3, Section 3-301, part A: "It shall be unlawful for any person to keep or maintain within the corporate limits of the Village any horse, mule, sheep, cow, goat, swine or other livestock. This section shall not pertain to mini-pigs."
It's a short line, not much to take from it. However, I found myself researching mini pigs and learning more about them than I probably ever needed to know, but reinforcing my opinion that the people of Waterloo should adopt more pet pigs.
Mini pigs are domesticated breeds, far different from their farm cousins, that tend to be smaller in size and weight. They are usually crossbred with many different breeds, but they can also be smaller Vietnamese pot-bellied or the Göttingen minipig (the first miniature pig breed in Europe). The terms minipig and potbellied pig often get interchanged when speaking about a domesticated pig.
You might remember in the late 2000's/early 2010's when there was a craze for 'teacup pigs'. That was people buying pet pigs without realizing how big they would get. Pot-bellied pigs can be anywhere from 70-200 lbs and be about 14 to 20 inches tall. Which, while that is a hefty pet, a Great Dane or Mastiff get about the same weight or bigger. These pigs also can live an average of 15-18 years and have been described as being as intelligent as a three-year-old child. They can be trained to walk with a leash; can do basic tricks like fetching, sitting, staying, and rolling over, and can use liter boxes or puppy pads.   
They are also hypoallergenic and can serve as a therapy or emotional support. Pigs can detect low blood sugar and warn of seizures, as well as help with anxiety, depression, and PTSD.
Not only are they permitted in Waterloo, but in Omaha too. According to the Nebraska Humane Society, you can own no more than two mini pigs in a residential dwelling, they must be spayed or neutered, and have licensing and microchip tags like any other pet.
But, for all those fawning over the idea of a pet pig, I should mention that many people who have wanted one for themselves have, for many reasons, decided they could no longer take care of their piglet. While some have tried to find them new homes, others have taken the cowards choice and released them or had them put down.
From an article by The British Columbia Society for the Prevention of Cruelty to Animal's (BC SPCA) manager of Equine and Farm Animal Care, Leiki Salumets, explains: "Releasing pigs into the wild is illegal and inhumane, as pigs used to living as a pet have no experience in the wild. If the pig does manage to survive and reproduce, the surrounding environment could be negatively impacted. We need to learn from the past. Other animals, such as turtles and hedgehogs, have had their 15 minutes of fame in the pet trade too. Many are no longer popular because people have realized they are just not suitable as pets. Sadly, though, the realization often comes only after the animals have suffered."
All in all, I have gained a new appreciation for the fat little snorters and would like to see them become a more popular pet in our area.
As long as people know how to take care of them.
Category:
Omaha Daily Record
The Daily Record
222 South 72nd Street, Suite 302
Omaha, Nebraska
68114
United States
Tele (402) 345-1303
Fax (402) 345-2351