Remembering Justice John Paul Stevens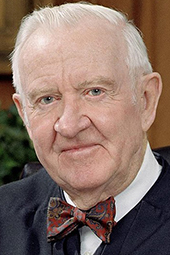 Flags across Nebraska and the country, including those at the Roman L. Hruska Federal Courthouse, 111 S. 18th Plaza, were flown at half-staff on Tuesday, July 23, in honor of U.S. Supreme Court Justice John Paul Stevens.
Stevens died July 16 at age 99 in Fort Lauderdale, Florida, after suffering a stroke. He laid in repose at the Supreme Court on Monday.
Appointed by President Gerald Ford, Stevens served on the Supreme Court, from 1975 to 2010.
"I was honored to succeed Justice John Paul Stevens on the Court, and his extraordinary tenure has inspired me ever since," Justice Elena Kagan said in a statement. "He was one of a kind – a brilliant lawyer with a passion for justice, a person of rare independence who modeled collegiality and valued institutions, a modest man who achieved greatness in both his majority and his dissenting opinions."
Category:
Omaha Daily Record
The Daily Record
3323 Leavenworth Street
Omaha, Nebraska
68105-1915
United States
Tele (402) 345-1303
Fax (402) 345-2351