Tom Dowd Represented Laborers, Served on Utilities Board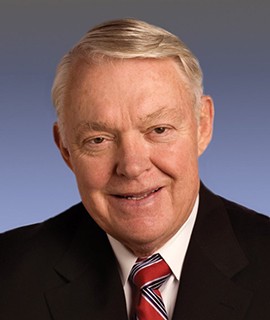 Thomas F. Dowd
June 17, 1938 – Aug. 7, 2019
An Omaha attorney with more than 40 years in private practice and service to the Metropolitan Utilities District, Tom Dowd's legacy in Omaha will be felt for generations.
Dowd died Aug. 7 at age 81.
He was first elected to the MUD board at age 35 in 1974, the same year he went into private practice. He would go on to chair the board six times.
"Tom was a leader on our board and was a mentor for me personally," current MUD Board Chairperson Tim Cavanaugh said. "He was a fine gentleman, husband, father, attorney and a close friend who will be missed tremendously. He has left us a legacy that will live on for years. Our thoughts and prayers go out to Sally and his family."
At his law firm, now Dowd & Corrigan LLC, he specialized in personal injury, workers' compensation, discrimination actions, public and private sector labor litigation, labor negotiations and arbitration of grievances.
Dowd's expertise in the law and employee relations, coupled with his passion for public service, contributed to the success of MUD over his decades of service as a board member.
"Tom's deep, wide-ranging knowledge of issues affecting the District was impressive," said MUD President Mark Doyle. "He understood the board's role is to provide their judgment to make well-informed decisions. Tom also always made sure customers received the same fair treatment, regardless of economic means or social position."
Dowd earned a bachelor's degree in business administration from Creighton University in 1961, and he graduated from the Creighton University School of Law in 1963.
After graduation, he served as a prosecutor for the National Labor Relations Board in Kansas City, Denver and Los Angeles.
In the mid-1960s, Dowd returned to Nebraska where he received an appointment as assistant U.S. attorney. He later served as assistant city attorney for the City of Omaha where he handled labor negotiations and litigation.
A veteran of the U.S. Naval Reserve, Dowd was a member of the Omaha Bar Association and the Nebraska Bar Association.
In his retirement, he was recognized with the 2016 Irish American Omaha Douglas County Public Service Award for his representation of the rights of laborers, according to Creighton.
Dowd was preceded in death by his son Thomas F. "Tom" Dowd Jr. He is survived by his wife Sally Dowd; children: Mike Dowd (Rosi), Tim Dowd (Jennifer) and Kathy Walz (Paul); nine grandchildren Katie (Cole), Ashley, Connor, Sean, Hannah, Mitchell, Daley, Quinlan and Kalen; and great-grandchildren Charli and Harper.
A burial Mass was held Aug. 12 at St. Robert Bellarmine Catholic Church. Dowd was interned at Resurrection Cemetery.
The family requested memorials be made to CUES (formerly Christian Urban Education Services) or Parkinson's Foundation.
– Scott Stewart
Category:
Omaha Daily Record
The Daily Record
3323 Leavenworth Street
Omaha, Nebraska
68105-1915
United States
Tele (402) 345-1303
Fax (402) 345-2351