David Gardels Brings His Legal Expertise to Support of Opera Omaha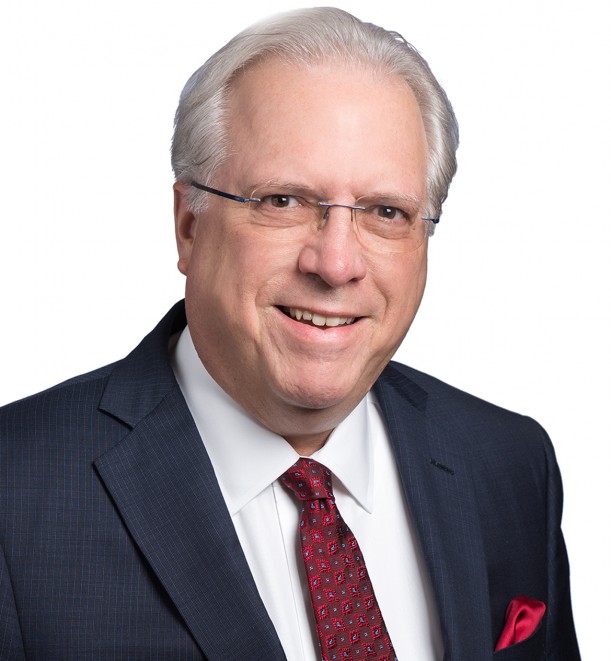 Music has always been a large part of David Gardels' life.
Growing up in Battle Creek, Nebraska, his mother was in the choir of a large Missouri Synod Lutheran church. Music was a daily part of grade school, and he participated in band and choral groups throughout high school.
That love of music followed him to Washington, D.C., as he studied political science at George Washington University.
He was introduced to opera by listening to radio broadcasts of New York's Metropolitan Opera, and he went to see shows with a friend from work.
"If you're into choral music, it doesn't get better than opera," said Gardels, a partner at Husch Blackwell LLP in Omaha.
Frequent attendees of Opera Omaha productions of "La Bohème," "Werther" or "Faust" may recognize Gardels and his wife, Linda, who have been attending opera performances since one of their first dates in Omaha in 1979.
In addition to attending nearly all Opera Omaha productions in recent decades, the Gardels' were involved in a young professionals group called Director's Circle and have served on the board of Opera Omaha.
"Right now, Opera Omaha is super strong and doing lots of ambitious and significant artistic work," Gardels said. "That's pretty exciting."
Professionally, Gardels has worked on corporate governance as part of his law practice.
"I've used my experience as an adviser to corporate boards in my work with Opera Omaha and other nonprofit boards," he said. "My law firm has made Opera Omaha one of the community organizations it supports financially."
Husch Blackwell also helped Opera Omaha by connecting the nonprofit with Nebraska Sen. Deb Fischer's office to expedite a visa for an Iceland native to play the lead character in the 2018 production of "Falstaff." The opera's original singer had a medical emergency, and Gardels was able to advise the opera as they prepared a visa application for the replacement.
"It was a blending of my life," Gardels said. "Senator Fischer's office took charge, and I interfaced with the opera, and they got things done."
A University of Nebraska College of Law graduate with high distinction, which included serving as managing editor of the 1978-79 Nebraska Law Review, Gardels has practiced primarily in the area of corporate finance and securities.
The expansion of the ethanol industry in the early 2000s gave Gardels and his firm an opportunity to use their expertise to offer an array of services to the energy sector. They got their first project around 2002, and within a few months, they began growing a specialty practice.
"It is kind of a small industry, so we had met all the principal contracting parties and banks," Gardels said. "At the time, the three largest lenders were located in Omaha. It was a kind of epicenter of the ethanol business. It was easier for us to get into the center of this business."
Gardels said the renewable energy business involves traveling to a lot of conferences, as each category of renewable energy has their own associations.
"It is where all the clients go and people in the industry go, so it is really important to be there," Gardels said. "It is a major part of building a substantial business in renewable energy."
A lot of time and energy goes into these conferences, too.
"Pretty frequently they involve planning or attending a multi-day conference, but also keeping up my work at the same time," Gardels said. "Moving other deals forward and working on projects, while at four or five major conferences we put on a dinner event and those events take months."
The real driver of business going forward is public demand for a reduced carbon footprint.
"There's a huge international demand because it's impossible for China and India to even touch the air pollution without substantially increase their imports of ethanol from America," Gardels said.
Much of his work these days deals with natural gas, using organic waste to create pipeline-quality gas while cleaning up byproducts for industrial use.
Over the years as an accomplished transactional attorney, Gardels has racked up an impressive list of accolades, including being listed among the International Financial Law Review's IFLR 1000 and 15 years of rankings in The Best Lawyers in America.
Gardels is a member of the Nebraska State Bar Association Securities Law Section, and he's served on the national board for the Society of Corporate Secretaries and Governance Professionals from 2014 to 2018. He's also served on the board of directors of the Nebraska Arts Council from 2006 to 2013.
With his work in such a specific field, Gardels said younger attorneys should look to find their own area to become an expert.
"More than ever it is important to know what your focus is," he said. "If there is an interest you have, maybe in engineering, make that a focus."
Omaha Daily Record
The Daily Record
222 South 72nd Street, Suite 302
Omaha, Nebraska
68114
United States
Tele (402) 345-1303
Fax (402) 345-2351